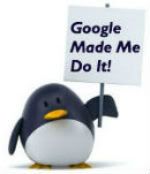 On April 24, Google released an update that's designed to target those who have been spamming Google through activities such as keyword stuffing, cloaking and link schemes that violate Google's guidelines. The update is called "Penguin" and is also known as the "webspam algorithm update." Google specifically points out that the goal of this update is to punish outright spam.
Many clients and prospects are paying attention to the fallout from the Google updates. They're becoming savvier about SEO and they'll question your SEO tactics because they want to know if you're putting them at high risk for Google penalties. It's important now more than ever to be transparent and accountable to your clients. An SEO reporting dashboard, like ours, shows your clients what they want to know and gives you an advantage over your competitors that don't demonstrate transparency.
These three tips will help you navigate through the Google Updates (both Penguin and Panda 3.5). Feel free to contact us if you need help sorting out the new rules of SEO.
We keep up with the latest SEO news so we're ready for the next big thing, the next Google update or whatever's coming down the pike that will impact our SEO reseller program. Here, we summarize the most important news and explain how the latest trends can potentially impact your business.  
Contact Us
for more details
Helpful Link Building Tips:
Use this web grader to take a look at your backlink profile and compare your links to your competitors.
Sign up for Blogger Linkup to learn about guest blogging opportunities. Most guest blogs will give you a link to your website. When you post in forums and contribute to blogs for the purposes of SEO, once you get one link from a website, move on. Work on getting a diverse set of links: Ten links from ten different websites is better than ten links from one website.
Recently, Google made changes to its PPC keyword matching and ad rotation settings:
Starting in mid-May, exact and phrase match keywords will "match close variants, including misspellings, singular/plural forms, stemmings, accents and abbreviations."
The ad rotation setting that allowed multiple ads to run indefinitely has been discontinued. Now, after 30 days, Google will run only your ad with the highest clicks. The ad with the most clicks may not necessarily be the ad that brings the highest quality traffic to your or your client's website. An ad that Google takes out of rotation may be your most profitable ad. Google will make more money from the higher clicks, but you may not.
Though these changes may seem insignificant, you risk having to pay for unqualified clicks if you don't take the extra steps to be in control of your campaigns.